Horoscope King Charles III
He has waited a long time for this moment. At the age of 73, he is finally starting the job he was born for. A look at his birth chart and the most important key people who shaped him…
Charles Philip Arthur George Mountbatten-Windsor, *14.11.1948, 21:10h in London
Bildquelle: https://commons.wikimedia.org/wiki/File:HRH_The_Prince_of_Wales_Allan_Warren.jpg
King Charles II (1630 – 1685), glamorous ancestor
Who was this last other Charles?
It will probably be a while before people say 'King Charles' instead of 'Prince Charles', it's so new and unfamiliar! Perhaps it's worth taking a brief historical detour to survey his namesake predecessor. The last Charles, Charles II, a Stuart from Scotland, was an extremely colorful figure, living from 1630 to 1685 and inheriting the throne from his unfortunate father, Charles I, who was beheaded in 1649. After the bloody Civil War of the 1640s, Britain was a republic for a brief period of 10 years. There was little to celebrate under the government of Oliver Cromwell (1599 -1658), who abolished the monarchy while ruling himself like an absolutist king. The strict Puritan abolished theater, and music, dancing and festivals were forbidden. After his death, Charles, Prince of Wales, was brought back to London from exile in Holland.
Constitutional monarchy
But only on condition that the latter had to make far-reaching concessions to Parliament. The beginning of a constitutional monarchy. This lives from the fact that the monarch represents rather than governs. Charles returned to London on his 30th birthday to great jubilation. The people longed for pomp, glamor and an identification figure. Now everything was supposed to be fine again. And although two of London's greatest catastrophes fell during his reign (the Great Plague, 1665, the Great Fire, 1666), this period, known as the 'Restaurantion', was a cultural heyday.
Kings are imported from abroad when needed
Charles II was a humorous, sociable, sensual, but also wasteful monarch with many mistresses and no legitimate offspring. He looked very much like his French cousin, Louis XIV. Like him, he had large brown eyes, a big nose and sensual lips. His brother James ruled after him, but only for 3 years and, not wanting to leave Catholicism, had to flee; chased out by his Protestant Dutch son-in-law, William of Orange, who then took over the government. This process is known as the 'Glorious Revolution', as not a single drop of blood was shed. However, William was impotent, so after the death of his successor Queen Anne (1665 -1714), the crown was once again left without heirs, as all of her 14 (!) children were either born dead or died early. So again fresh improvised and imported a royal family from the mainland. Enter House of Hanover with their line of George's, from George I to George IV. And after that came Queen Victoria in 1837, the ancestress of the current Windsor dynasty. 
A European ancestral mix
Charles III is also a mix of various European influences. Father Philip had German roots (Battenberg family, renamed Mountbatten in 1917), his grandfather had been imported from the Greeks as king. His mother Elizabeth II was half Scottish, as her mother, Queen Mum (1900 – 2002) was Scottish.
Charles' life is characterized – typically for a crisis-resistant scorpio – by conflicts of will and power struggles.  He was never particularly popular with the people, and was regarded as a mimosa-like eccentric with a preference for biologically sustainable cultivation and monument preservation. Yet he really only had two tasks:
To provide for offspring. We all know how that turned out. Even today, some people resent the way he neglected Princess Di and cheated on her with Camilla. But isn't that water under the bridge? Camilla, now Queen, is popular because she is modest and down-to-earth. And with William and Kate and their three photogenic children, their successors are already waiting in the wings. So: well done!
Waiting for his mother to die was a good thing, because abdicating was never an option for the queen, who had sworn over the radio to millions of British subjects on the occasion of her 21st birthday that she would serve for life. Charles could wait, a Saturnian virtue, by the way. But also virtues of Pluto (resilience), and Chiron (licking wounds). But one thing at a time. Let's shed some light at his horoscope. What kind of person is Charles? And which persons have shaped his life? His chart contains some striking constellations activated by these persons; some harmonious, some in tension.
Difficult relations with parents, but fortunately there are substitutes
Charles' relationship with his parents was difficult, as was his marriage to Diana. However, three people formed a constant positive support system in his life; Lord Louis Mountbatten, Queen Mum and Camilla. We find the 'male' (yang) planets Sun and Mars in concise positions. The Sun (father figures, self-confidence) stands challenging with hard angles to Chiron and Pluto. With Leo ascendant, the Sun is also the chart ruler and is in the 5th house of children, flirtations, self-expression. Mars is very athletic and ambitious in Sagittarius in a wide conjunction to Jupiter.
Pithy male and female planets
The feminine (ying) planets Moon and Venus are also concise. Moon in 10 at the critical degree of 0° Taurus in conjunction to the North Node indicates responsible (house 10) karma (Node). The trine to Jupiter (optimistic mind) and sextile to Uranus (emotional freedom) apply only to a limited extent, as the sign relationships are not coherent. Jupiter is still in Sagittarius, the sign that forms a natural qunicunx to Taurus, and Uranus is still in Gemini, in semi-sextile to Taurus. The Moon rules the 12th house, an indication of secrecy and difficulty coming to terms with one's emotional needs. Venus is in its own sign – Libra – on the IC, conjunct Neptune and sextile Pluto. This indicates a beautiful-spiritual, gentle, sensitive nature that can be very passionate (Pluto) at the same time. Venus also rules the 11th house of friendships and like-minded people in addition to the 4th, an indication of the pairing of romance and friendship.
Horoscope Charles III: Interesting chart factors:
Ascendant Leo, chart ruler Sun in Scorpio on the 5th house cusp.

Sun-Pluto square, Pluto in house 1

Saturn in Virgo in house 2

Moon at critical degree of 0° Taurus in house 10 (conjunct the Sun of his mother)

Sun conjunction Chiron (same as his mother)

Venus-Neptune conjunction in Libra on the IC

Mars-Jupiter conjunction in Sagittarius in house 5
Substitute Vater Lord Louis 'Dickie' Mountbatten (1900 – 1979) and father Prince Philip (1921 – 2019)
Lady Diana Spencer (1961 – 1997), Queen Elizabeth II (1926 -2022), Camilla Parker-Bowles (*1947), Queen Mum (1900 – 2002)
Father and mother figures; 'right' and 'wrong' women…
Scorpio as a water sign is sensitive and seeks love and security. The Scorpio Sun forms a conjunction to Chiron, the wounded healer. His shy sensitivity was a disturbing factor for his resolute environment from the beginning. Finally: Boys will be Boys! On the occasion of his birth in 1948 as the first of four children of the then Princess Elizabeth and her husband, Prince Philip, the Great Britain, shaken by the Second World War, was in a celebratory mood.
An heir to the throne! 
An heir to the throne, and thank God, a boy. However, the British Empire, where the sun never sets, was not so bright. British cities were largely destroyed, people were still starving because food was rationed. A gray time. A year earlier, India, the most beautiful jewel in the crown of the British colonial empire, had also gone independent, and more colonies would follow. Britain was also no longer a world power; the U.S., to which the British owed billions, had long since overtaken the small island. 
The coronation
On February 6, 1952, Charles' grandfather George VI died at the age of only 56. Elizabeth and Philip are making a public relations tour of Africa (without children) when the news reaches them that Elizabeth is now Queen. This has consequences for Charles as well. Because if the 4-year-old already rarely saw his parents before, from now on this time will be even scarcer. Even worse; his mother is now also his monarch. A kind of super-boss, an almost divine figure to whom everyone must bow. Charles' moon is very sensual in Taurus, such children need a lot of caresses and are very tactile. However, it is known of Elizabeth that she was never very physical with her children and was really loose and relaxed rather only with dogs and horses.
Moon at a critical degree
Charles' moon is at a critical degree of 0°. What does that mean? A planet is still new to the zodiac in the area from 0° to 1° and does not yet know its way around, figuratively speaking. The colors, moods, rules and needs in this zodiac land are still new. Since Elizabeths' Sun is also at the beginning of Taurus, a strong bond can be assumed here. Sun-Moon conjunctions are considered the strongest aspect in partnership astrology. Also, the North Node (karmic tasks in this life) is at the beginning of Taurus for Charles. The position of the Moon in the 10th house (vocation, authority figures, fulfillment of duties) is very coherent for an heir to the throne. The Moon in the 10th house feels exalted when he can follow his calling and can endure long dry spells. This is also bitterly necessary! The ongoing Saturn passes over his IC (home) in 1952 and 1953, then moves through the 4th house, touching his sensitive Venus-Neptune conjunction. And this conjunction has it all….
Venus-Neptune
Venus is very strong in her Libra domicile and gets a longing, delicate, but also very vulnerable touch through Neptune. In the 4th house there is a deep need for a beautiful home. Later he will find this in the form of his mansion Highgrove, where he creates a dreamlike garden realm. However, his interest in art, literature, architecture and botany is not much encouraged in the parental home.So who can take him under the wing?  
An ambivalent relationship with the mother…
The aloof Queen?
The Queen was not known for showing emotions easily or for being a particularly warm-hearted mother. She had too much to do, had to take care of her lively and demanding mother, her capricious sister and her agile husband on the side. But that doesn't mean that she didn't have a very close relationship with her son in her own way. The latter admired her, as he often let on. Still, it must have been agonizing to watch the Queen reign for so many years and for him not to get his turn. By the way, the last Prince of Wales who had to wait a similarly long time was Edward VII, who only inherited the throne from his mother, Queen Victoria, in 1901, at the age of 60. He still had 9 years left to rule before he died in 1910. This period has gone down in history as the 'Edwardian Age', a time of cultural prosperity, shortly before the 1st World War.
Synastry
Charles' Sun is conjunct the Queen's Saturn. With AC Capricorn, Saturn is chart ruler of the monarch and defines the core of her disciplined, tough and somewhat cool personality. Charles' Sun, that is, his ego, his core of being, is disciplined, held in check, and therefore frustrated by the mother's Saturn. A relationship that is about longevity and responsibility (Saturn). By the position of Charles' Chiron on the Queen's MC it is indicated that the mother's vocation (MC) is at the expense of the son and represents a wound (Chiron).
The Queen's Chiron, on the other hand, in conjunction with her Sun, stands on the son's lunar north node. So it's again about wounds (Chiron). Elizabeth II inherited the throne from her father George VI (1895 – 1952), who in turn had to step in because his brother had pinched and gave up the crown. Elizabeth would probably have preferred not to become queen, but would have led a quiet life in the country. The same is most likely true for Charles. His own fate is linked to that of the father (Elizabeth), or to that of the mother (Charles).
Karma and powerlessness
And on it goes: Charles' Sun square to the Queen's Mars-Jupiter bring high expectations (Jupiter) and power struggles (Mars). The square to the Queen's Neptune can be read as an indication that there have been misunderstandings and debilitations (Neptune) to the detriment of Charles (Sun). On the other hand, Charles' Pluto is on the Queen's Moon, a passionate relationship. The Moon; that is, the experience of one's own motherliness (Elizabeth) meets the feeling of powerlessness (Pluto) and of being at the mercy of others (Pluto). One of the few astrological bright spots is the trine of Charles' Mars to the mother's Pluto; he supports her power; she transfers her power (Pluto) to his masculinity (Mars).
Charles

Aspect

Mother Elizabeth II

Sun

Chiron

Moon

Sun

Sun

Pluto

Mars

conjunction
conjunction
conjunction
square
square
conjunction
trine

Saturn

MC

Sun-Chiron

Mars-Jupiter

Neptune

Moon

Pluto
A supportive and fun-loving grandmother
A pillar of strength for the stuttering grandfather
The Queen Mum, née Elizabeth Bowes-Lyon, youngest daughter of a Scottish nobleman and millionaire, had an active life and was able to live her Leo sun to the fullest. Not only did she manage to stay in the limelight her entire adult life, she could always afford anything she wanted and was surrounded by people who could make her every wish come true. Known primarily for her mild-smiling charisma, few know that beneath this pink cuddliness she had a will of steel and pulled many strings within the royal family from the background. Anyone who messed with her or got in the way of her will got the short end of the stick.
Originally, at the beginning of the Swinging Twenties, the delicate, elfin debutante wanted to marry the then heir to the throne, the Prince of Wales, Edward, but he didn't fancy her. Now his younger brother, the attractive but shy and stuttering Bertie (later George VI ) entered the scene. He was in love with the self-confident Elizabeth and asked her to marry him. She said no, once. Twice. And then finally yes.
A mother figure for the British Nation
Bertie and Elizabeth; until the brother's abdication of the throne in 1936, Duke and Dutchess of York (Today, the recently revoked title of Charles' scandal-monger brother Andrew) have two daughters; Elizabeth in 1926 and Margaret Rose in 1930. Actually destined for a second-tier royal life, the shock was great when brother Edward renounced in 1936 after a short time on the throne to marry the divorced American Wallis Simpson. Bertie was shy and stuttered; he needed his wife by his side, a calming, stabilizing influence on her husband. At first, the British were skeptical. The new king seemed all too colorless after his glamorous brother. But during World War II, the royal couple was a great moral support for the people.
Widow at 51
At the age of only 51, Elizabeth became a widow. However, she insisted on remaining active and so a new title was invented for her: 'Queen Elizabeth, the Queen Mother'. Her hated brother-in-law, ex-King Edward in Paris, scoffed: 'Only she manages to put the word Queen twice in one title.' And in this role she flourishes. She is invited everywhere; parties, inaugurations, opera premieres, garden parties; nowhere can she be absent, gladly armed with a glass of pink gin. She is contagious with her joie de vivre, everything depressing and sad is simply ignored. And so the matriarch is a support for her daughters and her grandchildren. Charles is her favorite from the beginning, because he reminds her of her sensitive late husband Bertie.
Synastry
Charles' Sun is in conjunction to the Scorpio Moon of the Queen-Mum. So exactly the reverse of his relationship with his mother (Charles' Moon and Queen's Sun). The Moon has maternal qualities and can nourish the Sun. The Sun, in turn, supports the Moon by giving him a task. Charles is her pride and joy. She teaches him everything that seems beautiful and lovable to her as the Leo Sun. Scorpio is a fixed water sign and as such is used to going through ups and downs. Charles' Leo AC, in turn, is on his grandmother's Sun. This too is an intimate astrological encounter, the Leo theme being, after all, pride and self-confidence.
His Moon is in trine to her Saturn, she provides the supporting backbone (Saturn) for his feelings (Moon), so to speak. His hypersensitive Venus-Neptune conjunction (dreaming, yearning, searching for the sensitive woman) gets support from her Pluto per trine (control, resilience). His Pluto is on her IC; a karmic task that fosters passion (Pluto) in the family-private context (IC). Charles used to pay for the Queen-Mum's debauched parties in later years, as the lavish old lady loved to entertain many guests and often stayed up late; drank pink gin and champagne. She also made her castle in Scotland available during Charles' secret affair with Camilla, much like great-uncle Dickie Mountbatten. Charles' Jupiter conjunct his grandmother's Saturn is a combination of hope (Jupiter) and realism (Saturn), ambition (Jupiter) and restraint (Saturn).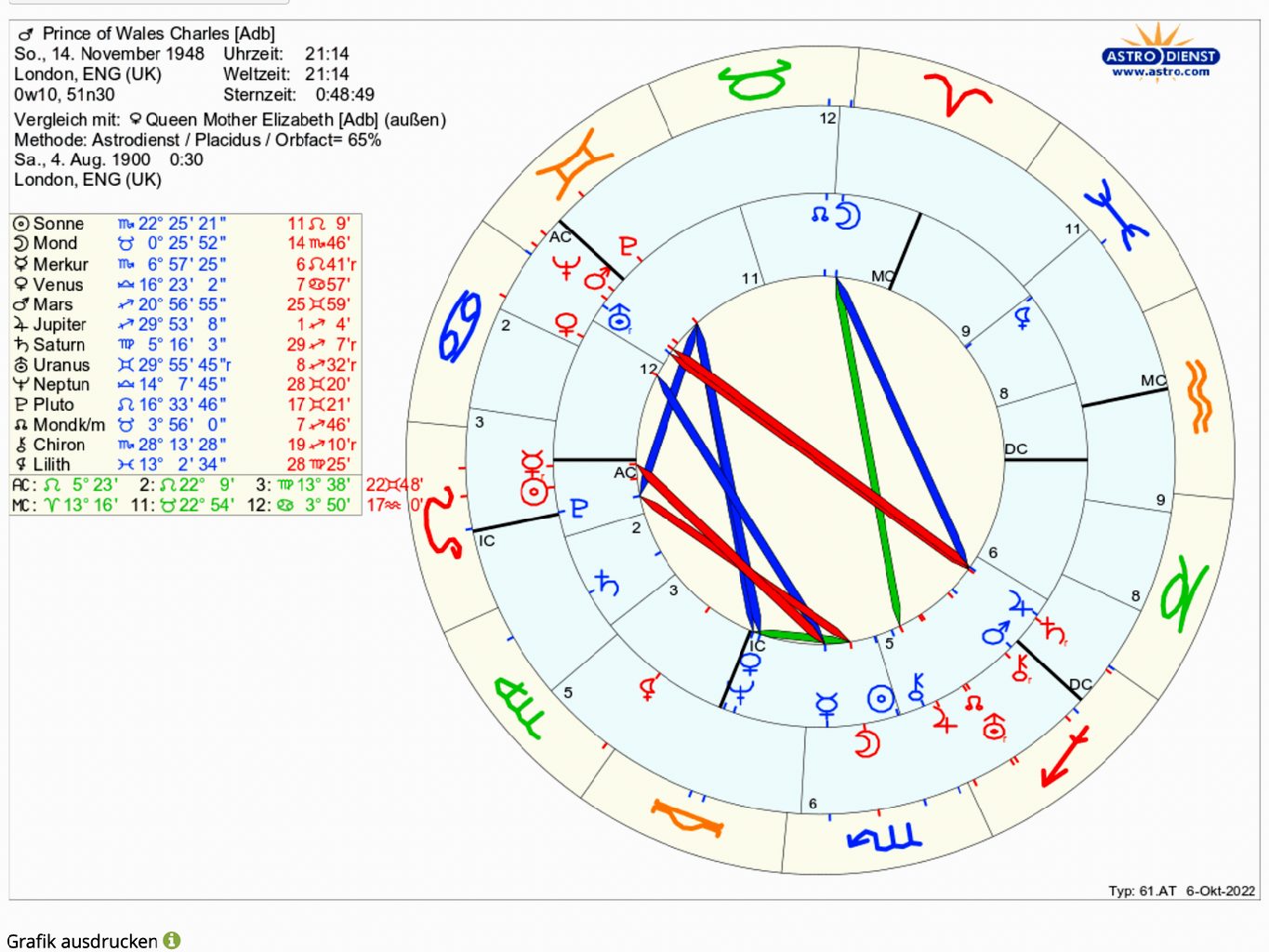 Charles

Aspect

Queen Mum

Sun

Moon

AC

Pluto

Venus-Neptune

Jupiter

conjunction
trine
conjunction
conjunction
trine
conjunction

Moon

Saturn

Mercury

IC

Pluto

Saturn
A macho father who wants a 'real' boy
Sun-Chiron: What about father Philip?
Charles is raised by nannies and has a very close bond with his grandmother, who is still Queen at the time of his birth. Mother and father are sent around the world as representatives of the royal house, Charles (and his sister Anne, born in 1950), stay dutifully at home. Letters from the Queen Mum to her daughter tell how much Charles misses his parents and what a sweet, sensitive boy he is. The Sun-Chiron conjunction indicates a wound (Chiron) by a father figure (Sun), or, interpreted differently, a wounded father figure. Philip Mountbatten was a fair-haired greek god; strong and self-confident, who could have made it to admiral in the Royal Navy. As the future queen's husband, however, he must give up his profession. And not only that! He must renounce his title 'Prince of Greece' and is compensated with the title 'Duke of Edinburgh'. His children must not bear his name 'Mountbatten', but the name of his wife, 'Windsor'.
A male Cinderella
A terrible narcissistic insult. From now on, he has to trot three steps behind his wife and is allowed to shake hands. On the other hand, he comes from a troubled background. His mother, Princess Alice, spends many years in mental institutions for religious insanity and founds her own order of nuns in Athens. His father Andrew is a playboy who abandons the family and settles in Monte Carlo with his mistress. Philip's sisters were all married to high-profile Nazis. Not exactly a family to brag about…. So Philip is sort of a male Cinderella who marries a rich princess. He has a huge ego and is a real macho man. He spent his childhood in a boarding school, where he had to learn discipline and order and, above all, to pull himself together. Not to show any feelings, as they are a sign of weakness in boys.
The boy needs toughening up
Sensitive little Charles and macho father are not a dream team. Philip takes much more pleasure in his resolute daughter Anne, who romps around, climbs trees and never cries. What to do. Charles must be hardened, at any cost. And so he is sent to the frosty north of Scotland, to Gordenston, the boot camp boarding school where Philip had felt so at home. Charles hates it. Pluto expresses itself in children mostly with its powerless side and rarely with its powerful side. To no avail, the Queen Mum tries to use her influence to place Charles at Eaton, just a stone's throw from Windsor and thus close to the family. Charles is bullied by the other boys and remains an outsider. Being a prince is a curse. On the other hand, one is defenseless against one's fate; Pluto in 1 (having a special effect on others; polarizing) in square (conflicts) to the Sun (identity, father).
Synastry
Philips' Chiron (wounds) is on Charles' MC (calling, duties). Maybe a grievance on Philips' side, that Charles is born 'just like that' into his vocation, without having done anything for it? For how differently had Philip's biography gone, how hard had he had to fight, what had he had to do without? Charles' profound Scorpio Sun forms a square to Philip's proud Leo Moon; a constant friction between father and son; neither understands the other. Philip, with his Sun-Mars conjunction in the lively Gemini sign is a man of action; go-getting, agile, unsentimental.
Charles' Mars is in opposition to Philip's Sun-Mars. In Sagittarius, Mars is idealistic and rapturous; so hard opposites meet here too. Charles' Sagittarius Mars is also square to Philips' Saturn, a frustrating constellation for the son. In addition, the son's hypersensitive Venus-Neptune conjunction is square to his father's Mercury; quarrels and alienation are pre-programmed. Nevertheless; it can be assumed above all that Charles has longed all his life for the recognition of his father, who has always preferred sister Anne, a rough and tumble tomboy.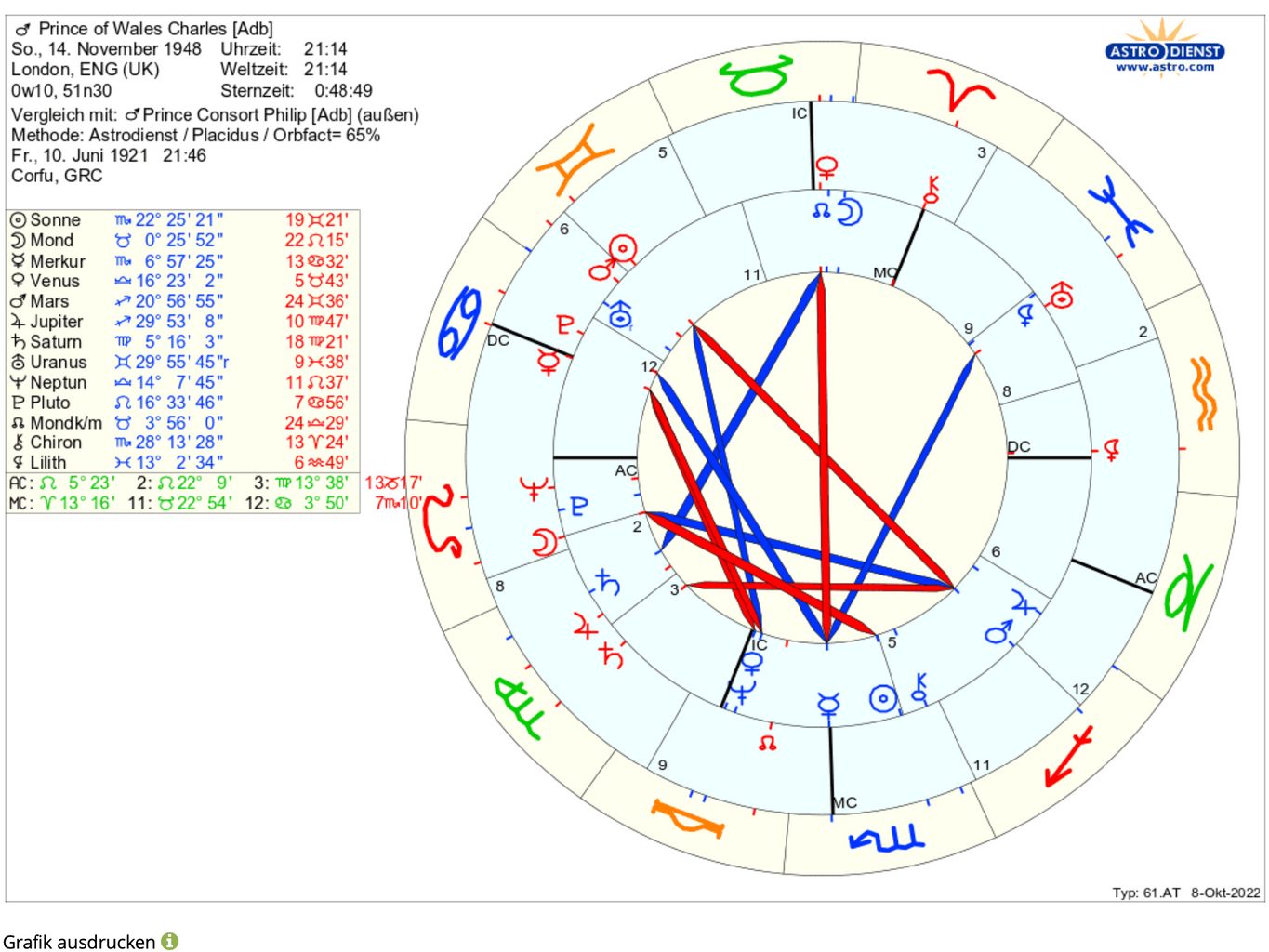 Charles

Aspect

Father Philip

MC

MC

Mercury

Sun

Mars

Venus-Neptune

Mars

DC

Saturn

conjunction
conjunction
conjunction
square
Opposition
square
square
conjunction
trine

Mercury

Chiron

MC

Moon

Sun-Mars

Mercury

Saturn

Lilith

Venus
First surrogate father for Philip, then for Charles….
Lord Louis 'Dickie' Mountbatten; the narcissistically wounded prince
Louis Battenberg comes from an ancient German noble family and is allowed to call himself Prince Louis as a boy. His father is an admiral in the British Army. Queen Victoria has German ancestors and her late husband Albert was also German. So the German-British muddle in the far-flung British royal family should not surprise anyone. No problem? Well, actually, one is ashamed of the German relatives, above all for the irascible Kaiser Wilhelm in Potsdam (grandson of Queen Victoria). Then the 1st World War breaks out. Great Britain and the German Empire are at war with each other. In 1917, when German bombs fall on London, which are also imprinted with the factory name Gotha (the royal house bears Alberts' name 'Saxe-Coburg-Gotha'), the mood of the people is at its lowest point. Why do Germans actually sit on the throne in our country? 
And how can one trust a German-born grand admiral in such a war? Louis' father falls victim to a coup and is discharged from the navy. All German Royal relatives living in Britain are ordered to renounce all German titles of nobility. They are compensated with – less valuable – English titles of nobility. The Princes of Battenburg now become Lords of Mountbatten. So Louis is no longer allowed to call himself Prince. The 17-year-old is severely offended. From now on, the ambitious, handsome, tall man, who also joins the navy, will do everything in his power to have this rind shredded and to rise to the top drawer again. 
Immeasurable wealth
By marrying Edwina, heiress to a fortune worth millions, Louis enters the glamorous world of London high society of the Swinging Twenties. The couple is known for their enjoyment of partying, flirting and scheming. Edwina is not faithful, which hurts Louis, known as Dickie in the family, but he also knows how to sweeten the time and is no foodie. By the way, his uniform fetish is famous. He changes up to 5 times a day, he has a whole room for his suits and uniforms. 
Big plans for nephew Philip
So, money and career are taken care of. But how to get back to the center of the royal family? The plan is as simple as it is ingenious. In 1939, Dickie arranges for his 19-year-old dazzling nephew Philip to look after the royal family on a regimental visit. He is to take special care of the two princesses, Elizabeth (age 13) and Margaret Rose (age 9). This encounter is fateful, for young Elizabeth instantly falls in love with the handsome tall cousin with the blond hair and bright blue eyes. The two write to each other over the next few years and then Elizabeth announces that she wants to marry Philip.
Her parents are not amused. A German prince from a disreputable family? With an eccentric mother who helps the poor in Athens by smoking cigarettes in a gray nun's habit is not exactly ladylike. And a playboy for a father? And what about Philip's numerous sisters, all of whom had been married to notable Nazis in the 1930s? Philip may be good-looking and have an impressive career in the Royal Navy, but he's completely penniless.
Again, Uncle Dickie steps in. He adopts his nephew, gives him his name Mountbatten and lets him move in with him. Elizabeth is put to the test. She is supposed to go on a month-long trip through Africa with her sister and parents. Who knows, probably the crush will cool down then…. But on the contrary! Elizabeth sticks to her plan and the parents give in. 1947 is the wedding. Philip accepts the English citizenship and renounces his title as Prince of Greece. 
Narcissistic hurt part 2
Now, Dickie believes, the moment of revenge has come. From now on, the royal house will no longer be called Windsor, but Mountbatten. But he has done the math without the landlords. According to his plan, the name change should take place immediately after the accession to the throne. But both Queen Mum and the ancient Queen Mary (widow of George V), as well as Prime Minister Winston Churchill are against it. The name Windsor stands for tradition and sounds so wonderfully 'very British'. Mountbatten' is only the English version of 'Battenberg', and actually the house of Glücksburg-Sonderburg is behind the name. That's not possible at all! Philip has to be modest, Uncle Dickie has to tuck in his tail.  
Passing the baton from Philip to Charles
The beginning of the 1950s. History repeats itself. For once again, a prince is in need. Ironically and of all things, Philip's son. Philip, whom Uncle Dickie had already taken under his wing. But somehow Philip doesn't seem to be able to respond to the sensitive Charles the way he needs to. Dickie has pity and genuine sympathy for the shy but bright Charles. With his great-uncle, Charles thaws out and feels at ease. Here he receives both fatherly advice and friendly encouragement. A lifelong close bond that only ends with the brutal murder of Mountbatten in 1979. This paternal 'passing of the baton' from one protégé to the next can be seen in the Netflix series 'The Crown – which is, of course, largely fiction, but interesting nonetheless. In one scene, Philip complains to son Charles that he has stolen his ancestral place in Dickies' heart.
Yet he, Charles, would have had a father, namely him, Philip. Philip, on the other hand, would have had no father, Prince Andrew was on the Riviera with his mistress.  How the three men regulated their relations among themselves in real life is not known. But that Dickies' heart beat equally for nephew Philip and grandnephew Charles, there is probably no doubt. It was also clear that Philip, now in his 30s and 4o's, no longer really needed the help of his uncle and patron.
Synastry
Charles' Sun is in trine to Dickies' Mercury-Venus conjunction. The great uncle; who, diplomatic and charming can charm anyone and everyone, tries to initiate Charles into the social niceties of conversation (Mercury) and love (Venus). He is probably also the one who ensures that young Charles is allowed to try his hand at amour undisturbed at his uncle's residence. Charles' Venus-Neptune conjunction, in turn, is in trine to Dickie's Moon-Pluto. Moon-Pluto men are passionate and deep. Here, between two men, their feminine planets Venus and Moon harmoniously combine in support with the water planets Neptune and Pluto, so it's a very emotional, loving relationship. Other slow movers, similar to the Queen (also born in 1900), make harmonious angles to Charles' radix. Foremost again is Jupiter (Charles) conjunct Saturn (Dickie), a disciplining (Saturn) of idealism (Jupiter).
Charles' Moon is in trine to the great uncle's Saturn; emotional (Moon) stabilization (Saturn). Charles' Saturn square to Dickies' Jupiter represents the responsibility the 48 year older great uncle takes on for his protégé, which requires much patience (Saturn). Expectations that are too high (Jupiter) will be frustrated (Saturn). Also that the Chiron of Mountbatten comes to stand on the Mars of Charles is an astrological correspondence for the fact that the young man (Mars), fights for the wounds (Chiron) of the elder and vice versa. Since Chiron also represents healing and comfort, this Mars encounter is of particular value as Charles seeks a male role model. Charles' Sun conjunct his great-uncle's Uranus represents both his efforts to tease out the young prince's idiosyncrasies (Uranus) and his determination not to be bent. Lord Louis Mountbatten was in many ways an unconventional father figure who did not want to conform (Uranus). 
Charles

Aspect

Dickie Mountbatten

Sun

Venus-Neptune

Jupiter

Moon

Mars

Saturn

Sun

trine
trine
conjunction
trine
conjunction
square
conjunction 

Mercury-Venus

Moon-Pluto

Saturn

Saturn

Chiron

Jupiter

Uranus
Diana…Why did everything go wrong?
The prince and the little girl
Diana dreamed of being a princess even as a girl. Abandoned by her mother at an early age, the sensitive Cancer girl with the Aquarius Moon, with whom one quickly feels like an outsider, suffered silently. With two older sisters and a younger brother, she ran the risk of just always tagging along. At boarding school she was popular but also known to be a bit conceited. Actually she wanted to become a dancer; but phases of ambition alternated with those of lethargy; typical Cancer Sun. In 1979, Lord Louis Mountbatten falls victim to an IRA (Irish Republican Army) explosive assassination and Diana watches on television as Prince Charles mourns the loss of his beloved great-uncle. When the two meet at a society, she expresses her heartfelt sympathy to him. At the time, she is working in a kindergarten and cleaning for her sister Sarah, with whom Charles is having a brief affair at the time.
Everything is happening in far too much of a hurry!
Charles is now over 30 and the press and the Windsors are getting impatient. He should finally settle down. Enough with the affairs! Diana is not unknown to the royal family, she is the granddaughter of a lady-in-waiting of the Queen Mum; Lady Fermoy. The old ladies hatch a plan, because Diana is just too ideal to be true! A fairy-like maiden from a good noble family (despite the divorce of her parents), who, apparently gentle as a deer, is certainly malleable and very well able to fit into the hard daily routine as a royal.
Charles has to admit to himself that the wife he wants (Camilla) is not available, so what to do? Wait forever? After the death of great-uncle Mountbatten, who had advised him on everything, and pressured by father ('It's about time now, so marry Diana'), he is somehow strangely will-less. When even his beloved grandmother advises him to take the step, he buckles. Diana, on the other hand, can't believe her luck; she is now really and truly to become a princess. They don't realize that they both need a lot of affection and love from their partner, because in both cases the mothers had virtually dropped out. As the elder, Charles expects submission and admiration from Diana. Diana, in turn, thinks he can protect her and lovingly read her every wish from her eyes. But instead of giving them time to get to know each other, the wedding date is set – hurry, hurry, hurry. Right from the start, Dianas' fears and nervous fits show up in the form of an eating disorder. The Queen will later blame this disorder for the failure of the marriage, even though it was a symptom rather than the cause.
Diana puts a spoke in everyone's wheel
The 19-year-old girl is overwhelmed by the demands, the press hype and the loneliness at Buckingham Palace. Charles has little time for her, no one instructs her in the duties of a royal, and during her first official appointment in Wales, she bursts into tears in the limousine. The crowds overwhelm her. 'It won't always be like this, will it?" she asks a staff member. The answer is 'Yes it will, and it will never stop'. What happens now – peu a peu – over the next few months is something no one had expected, least of all herself. She becomes the darling of the press and of people all over the world. Her natural charm, her special gift for approaching children, the elderly and all those who are weak, is in stark contrast to the rather formal way in which the other royals usually approach people. Prince William is born a year after the wedding and enhances Diana even more. She has done her duty and produced a male heir.
It's all downhill from here on out….
Charles and Diana have different interests from the start, each with distinct character traits, and so they become increasingly estranged. It also doesn't help that Charles, who has always been used to being the center of attention, is now suddenly overshadowed by his beautiful young wife. When the two split between the sides of the street, Charles has to put up with the crowd's obvious disappointment at seeing not Diana, but 'only' him. That hurts. First he stands in his mother's shadow all his life, only to be in his wife's shadow now. Everyone knows how the story ended. Bitter mudslinging, scandals and bad blood. Both have affairs (though he 'only' has Camilla) and eventually the Queen has had enough; the two have to divorce. Although she gets a fat settlement, she is deprived of the title 'Royal Highness' and no longer receives personal protection. From now on, she is on her own. Diana became an international celebrity, plunged into affairs and finally died in a car accident in Paris in 1997, chased by paparazzi.
The legend of Holy Diana
If Diana was revered before, she is now stylized as a martyr and a saint. Charles does not come off well in the whole affair. And it takes him almost 10 years to get through to the Queen that he may marry Camilla. Much grass has now grown over Diana Spencer's marriage and death, but her two sons are living reminders of her. Charles is considered a good father and grandfather, and the public seems reconciled.
Synastry
In the synastry between Charles and Diana, it is hard to know where to begin with the aspects of tension. Charles' Scorpio Sun is in opposition to Diana's Taurus Venus, the power man against the sensual, persistent woman. Charles' Sun is also square to her Aquarius Moon. Since these are fixed signs, the conflicts are fierce. Scorpio does not give in, Aquarius goes into inner immigration and only feels confirmed in his outsider role. Diana's Uranus is also square Charles' Sun. Uranus is the planet that indicates the greatest possible emotional distance. Probably neither of them was capable of caring for the other, of empathy, of tolerance. Basically, they always remained strangers to each other.
Charles' Sagittarius Mars is on Diana's AC, a sexually charged attraction that can switch to combat mode at any time. In principle, Diana's very appearance (AC) was a provocation (Mars) to Charles at the end. Diana's Jupiter is on Charles' Descendant, he must be taken with her positive charisma (Jupiter) and her initial admiration of his person. Charles' Moon is square to Diana's Saturn. The responsibilities for the needy and moody Diana were from the beginning too much for Charles, who himself needed someone to stabilize him. Last but not least, a look at his Uranus on her Mercury. It is known that his intellectual friends and artistic interests were not to her liking and she never felt understood by him in conversations.
Charles

Aspect

Diana

Sun

Sun

Sun

Mercury

Mars

DC


Moon

Moon

Uranus

Opposition
square
square
conjunction
conjunction 
conjunction 
trine
square
conjunction 

Venus

Moon

Uranus

Neptune

AC


Jupiter

Mars-Pluto

Saturn

Venus
Camilla…A happy end
A strong woman
In 1972, when Charles and Camilla meet, they are in their mid-20's. Unlike him, she has more sexual experience and is generally much more self-confident and carefree; a woman who doesn't let anyone tell her anything. Everyone else is in awe of His Royal Highness Prince Charles, who is to be addressed as Sir. She, however, seems to have no reverence at all, but is simply interested in Charles the man. The two plunge into an affair, with Camilla also hooking Andrew Parker-Bowles, a rakish polo player she's had her eye on for several years. Who will win the race for the favor of the self-confident Camilla? Charles has the worse cards from the start, since Camilla, as a commoner with a 'past' (sexual experiences), is ruled out as a serious marriage candidate.
An impossible relationship 
Nobody takes the affair with Camilla first, probably not even she herself. The only one who takes it seriously is Charles himself. He is in love. Camilla is his dream woman. He tries to woo his family for Camilla. She is 'not amused' and goes to work freshly, deceiving the relationship. Camilla is to marry Andrew Parker-Bowles as soon as possible, while Charles is transferred to the Caribbean, to a dull military post. A shock for Charles. No one stands up for him, not even Queen Mum and great uncle Dickie Mountbatten.
Camilla doesn't seem to be quite as devastated as the prince, after all she got her (second?) choice. But Charles will be nibbling away at this story for a long time. Typical of a Scorpio Sun square Pluto, the feeling of powerlessness sets in. Worse; he is betrayed, everyone is against him, no one takes him seriously. No wonder that now, heartbroken, for the next few years he talks about himself as a playboy for whom no candidate is good enough.
The unfaithful husband and the adulteress
Camilla has the worse cards compared to Diana. Not only is she not as charming and beautiful, she is the 'other', the third in the group. She has the role of the adulteress. Charles also comes off badly in this story. Only after Diana's death, when he insists that the mother of his sons get a state funeral and takes great care of William and Harry, can the general public forgive him. With Camilla, this process still takes time, but finally, in 2005, the two are allowed to marry. The new narrative now is: what lasts long will finally be good. This love must be really strong if it lasts this long. While not as obviously romantic as Charles and Diana in 1981, it is somehow touching. A mature love…
Synastry
It is remarkable that the axes of the couple are close to each other. The axes are often neglected in partnership astrology; wrongly so. They indicate how we align in life (AC); show us, perceive the environment (DC), what goals we have in life (MC) and where we come from (IC). A similar alignment is always beneficial in this regard. Charles Scorpio Sun is in trine to Camilla's Cancer Sun. Her full 12th house is an indication that she can and likes to stay in the background. Her Saturn-Pluto conjunction is on his Ascendant and gives him strength. At the same time, his charisma (AC) is both magnetic (Pluto) and grounding to her, and associated with loyalty (Saturn).
The friendly touch; the fact that both can talk and understand each other so well is indicated by the trine of Charles' Mercury to Camilla's Moon-Venus conjunction. His Mars in opposition to her Uranus explains why their (sexual: Mars) relationship was subject to so many fluctuations and why she was at times unavailable (Uranus) to him.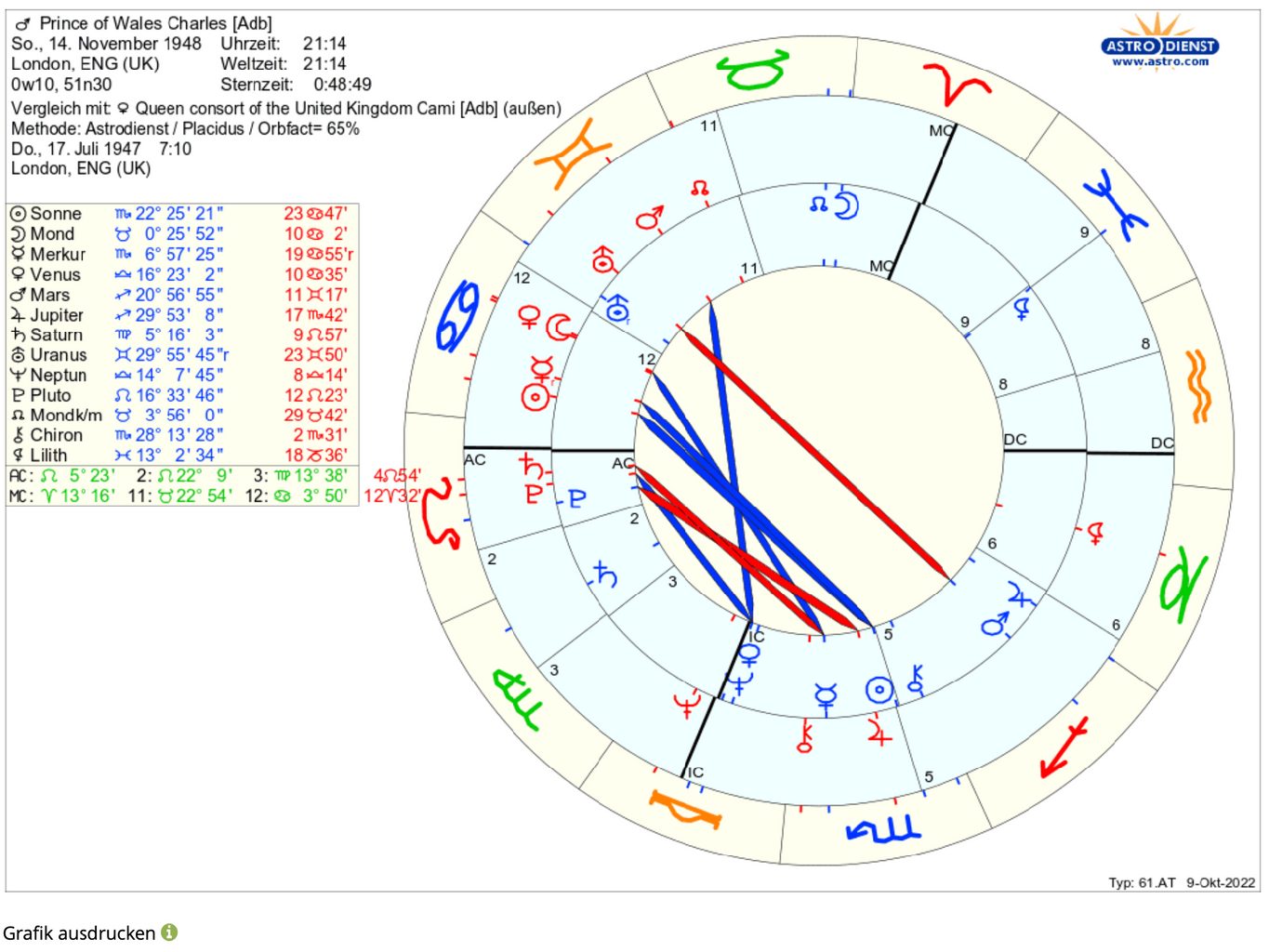 Charles

Aspect

Camilla

Sun

Sun

AC

MC

Mars

Mercury

conjunction 
trine
conjunction 
conjunction 
Opposition
trine

Jupiter

Sun

AC

MC

Uranus

Moon-Venus